Company
We at Distence concentrate on introducing intelligence to industrial machines and equipment – Edge Computing solutions. We specialize in demanding environments. With our technology, we increase the autonomy of machines and integrate them into business processes with the true "system system" architecture.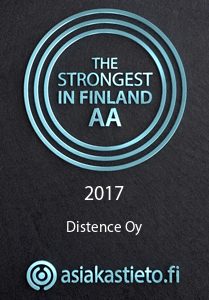 The key factor in our solution is Distributed Intelligence. Our goal is to reach our customers with a higher rate of return on capital and to add tools to the Operational Excellence Toolbox through digitalisation. For 15 years, we have been delivering Edge Computing solutions to leading industrial companies in over 40 countries, making thousands of machines intelligent. We are well positioned to work with the most demanding customers.
With our solutions, installations to both "green- and brown -field" assets, our customers have access to industrial and proven technology with solid technology and service. Our award-winning solution gives the keys a fast and flexible way to enter the market and above all focus on the essentials: information that raises ROI and helps optimize processes.