SmartPumps – increased lifetime value
Pumps are an integral part of industrial processes. The market is huge in itself, but as parts of critical processes, their both lifetime value and reliability play an important role. Using edge-computing and an IoT platform brings immediate and undenaible value to both OEM and retrofit applications.
As separate devices, the pumps do not necessarily need a permanent operating and condition monitoring solution. However, while being part of a business-critical manufacturing process, the ability to locate the faulting device and the transparency of the operation of the pump are highly valuable information.
Optimal operations with pump condition monitoring
By bringing intelligence to the pump unit in the form of remote and condition management, the information received from the sensors can be connected to information from external sources. When the local operation of a pump is being optimised, the following information, for example, may be utilised:
·       price of electricity
·       weather forecast
·       other parts of the process.
By preventing process interruptions, optimising energy consumption, and 
real-time understanding of critical component status and performance, you can provide significant savings, increase quality, and automate operations.
Distence has solutions for both new and existing pumps.
Distence offers a complete platform and tools for SmartPump applications. Our implementations range from simple monitoring of hours of operation to more complex and more holistic applications for both OEM and legacy asset applications. The collected and analyzed data is typically accelerations (vibration levels at different frequencies), rpms, temperatures (fluids, environment, device), Pressure, Flow, Power Consumption, Oil Quality, Valve Position etc. The data is then used for analysis, for example vibration, through which we can identify and learn to read bearings or imbalances to avoid damage. Comparing multiple values ​​provides information on the efficiency of the operation, for example flow and the relative difference in current consumption. From the critical events, e.g. alarm limits, statistics can be built, giving the user an indication of improper use or clarifying operating instructions, e.g. after dry operation. When analyzing long-term information, it is possible to see how different variables and different uses affect the life cycle of a device and further determine the necessary actions.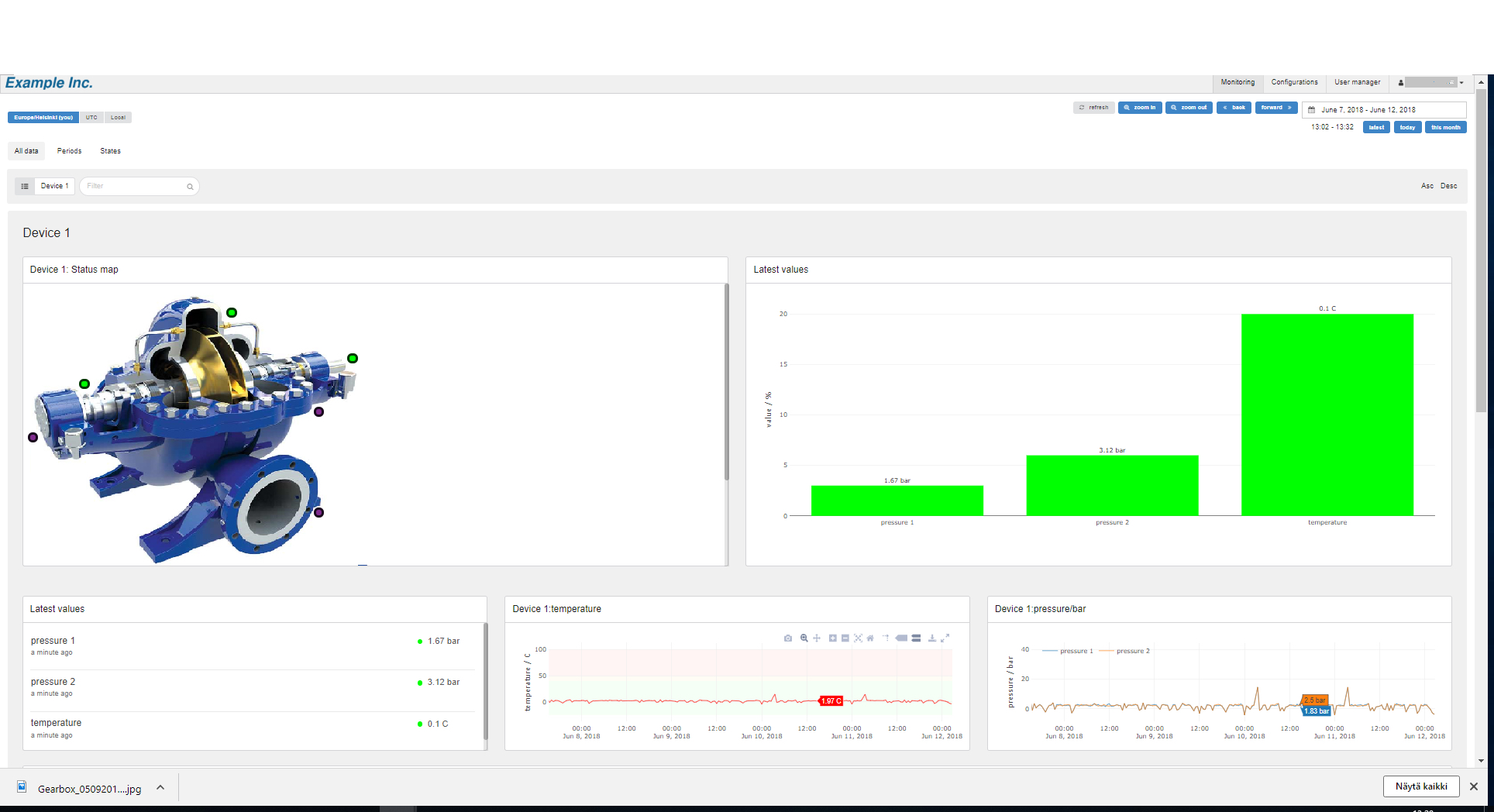 Benefits include also a better understanding of the root causes in warranty discussions of user errors, defects in manufacturing, or improperly sized devices. Scheduling maintenance based on usage (time and use) often improves the predictability of maintenance and generates cost savings compared to traditional calendar-based maintenance practices.
The Distence solutions makes the best from both edge-computing, turning data already at the device level to smart data and then doing further analysis on the smart data on the Condence-platform. The information is then not only presented to the operations and business side or fed into other systems, but also fed back to the device level for further use. The Distence solution offers a platform for the use of AI and neural networks for more sophisticated solutions.