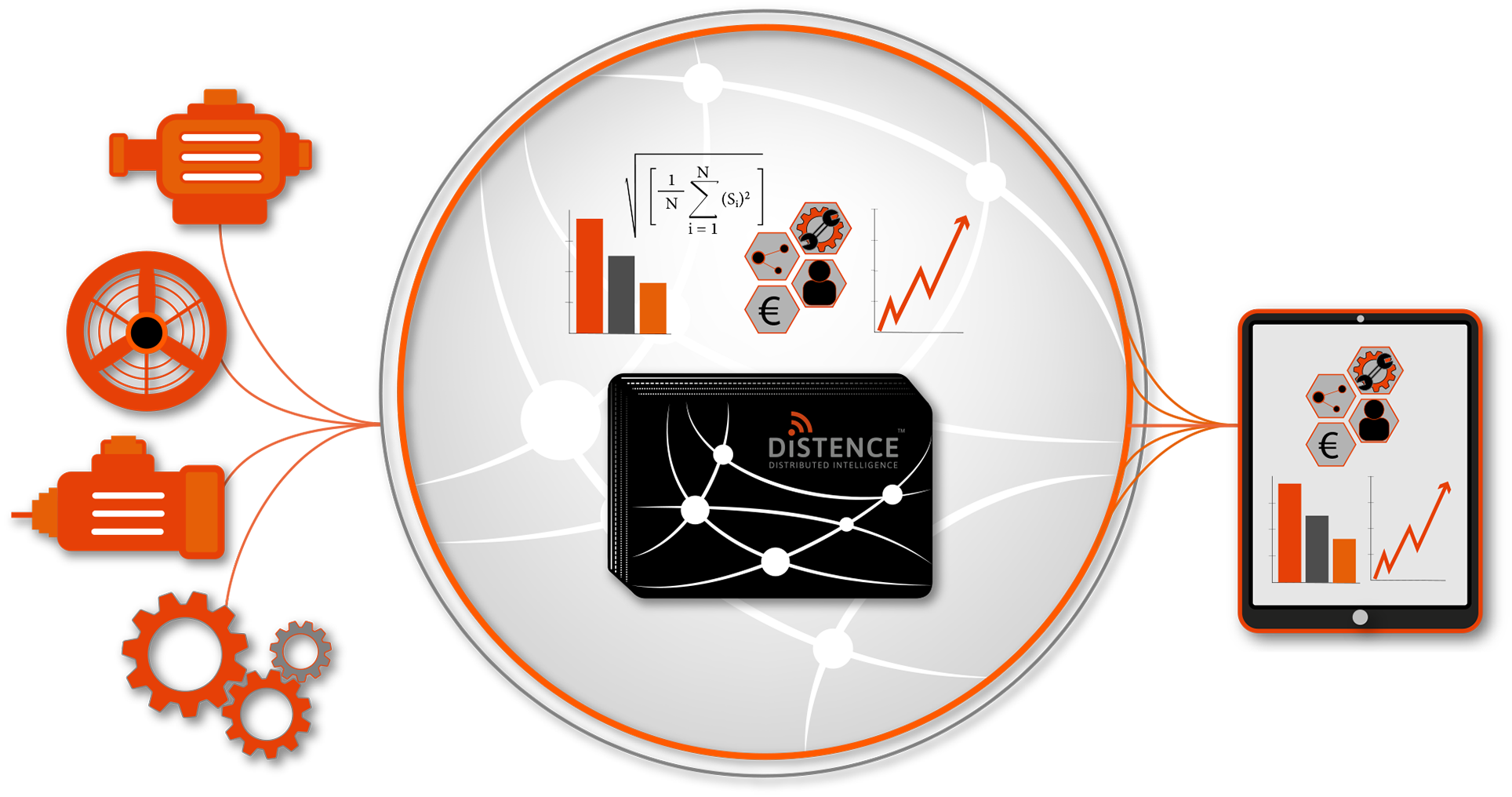 The solution consists of an intelligent service platform, on which the customer-specific solution is built, as well as of Distence terminal electronics, intelligent data management devices utilizing Edge Computing. Other important technologies include advanced signal processing, data transfer and application building software. With the help of these technologies, the required measurement data is processed and utilized for local device level intelligence, decision making, and compiled and conveyed to the customer's cloud as material for business users.
Measurement data is analyzed in a decentralized manner already very close to the birth place of the data: this reduces costs and improves data reliability. All technology and software have been 'packed' in weatherproof, very low maintenance standard casings suitable for on-site installations. The choice of technology is always driven by our customers' information and business needs as well as the environment and the technical infrastructure. Technology has been documented extensively, so it also serves those in charge of data systems of our software customers and product development management of OEM customers.
Top of the line technology for industrial use
Distence technology combines on-site analysis and cloud scalability to form a unique combination of efficient data processing. With our Hardware terminals, our customer is able to collect the data directly from sensors and analyze it on-site (this method is called Edge computing).
Once something interesting is detected, it will be sent to the cloud and to make decisions for actions. The most common application is condition management.
Condition management of industrial assets has been a manual on-site task for several decades. To some extent, it has been automatized, yet many of the methods still require frequent manual inspections to achieve a relevant level of accuracy. This naturally translates to lower reliability and higher cost.
Through working with global players in pumps, wind power, industrial gears, electric motors, and other heavy machinery, we have developed a scalable and flexible solution for professional condition monitoring and management.
Distence provides technology to help their customers to move from frequent manual inspections to continuous monitoring and analysis, all managed from the cloud. Distence specializes also in rotating machinery.
With this technology, data is analyzed on the device level and for example, our customers can set up continuous and simultaneous analyzing up to 8 channels of vibration and convert the raw data into smart data.
Distence offers a cloud platform, cloud analytic tools, edge computing hardware, and edge analytic tools.
Interested to hear more?
Leave us your contact information and we'll contact you!