I have recently noticed that there seems to be many easy-to-deploy condition monitoring products entering the market of vibration monitoring. Many of these are utilising microelectromechanical system (MEMS) accelerometers which are easy and cheap to integrate on the circuit board to incorporate basic vibration measurement features. This accelerometer type, though, is lacking in capability when utilised in condition monitoring vibration analysis or at least in the predictive context. MEMS accelerometers are restricted to well below 10kHz, even as low as 1000Hz, frequency bandwidth which means they are not able to catch essential failure modes like gear mesh frequencies nor bearing fault frequencies, early enough at least. Would you rather have days or months to plan an overhaul for your equipment?
Different Applications Require Different Type of Accelerometers
There are three leading vibration sensing technologies: capacitive MEMS (Micro-Electro-Mechanical Systems), piezoresistive and piezoelectric. They all have their respective use cases, and their abilities in sensing differ accordingly.
From the accelerometer types mentioned above, Piezoelectric accelerometers are the most widely used accelerometer for test and measurement applications due to their wide frequency response and excellent sensitivity. MEMS and piezoresistive type of accelerometers are best suited for either steady-state low frequency (motion) or impulse / high impact (Shock) measurements.
The table below summarises which accelerometer type work in some example applications.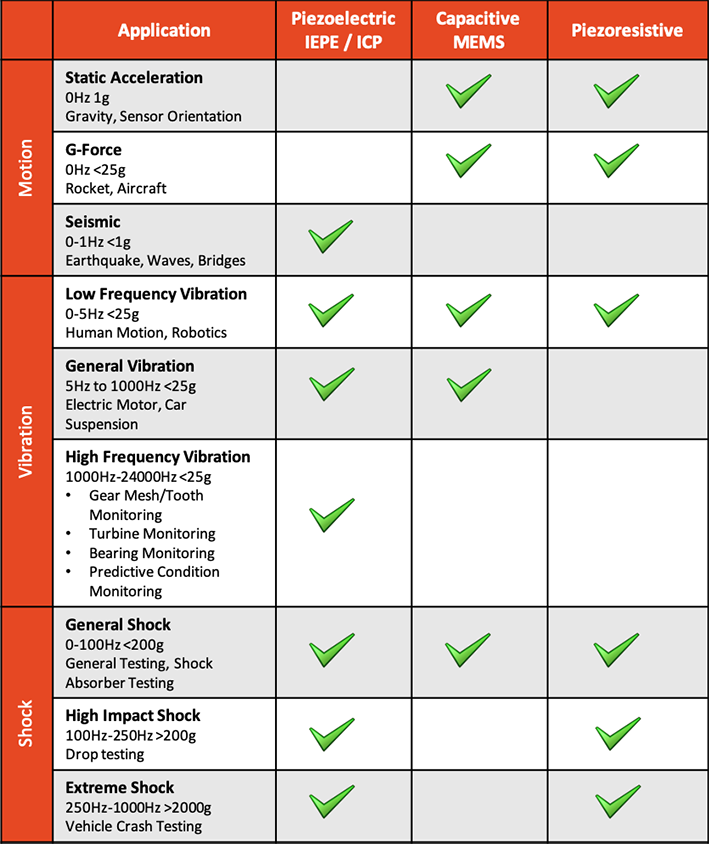 One way to elaborate on the differences in sensing technologies, for example, between IEPE (Integrated Electronics Piezo-Electric) and MEMS, is to compare it to driving your car in the dark with only your low beams on (low-frequency MEMS). If you are driving into trouble, you will still see it eventually, even with low-beams, but it is probably too late to fix the situation on your terms. On the contrary, with proven predictive technology, IEPE (up to 24KHz and beyond) type of sensor, you can sense the smallest cut on a bearing surface, or whatever is in front of you, months in advance.
If you are serious with your condition monitoring via vibration analysis and want to catch or predict failures, you need to be able to source high-frequency vibration. High frequency enables you to capture the necessary failure modes and get a glimpse into the future life of your machinery as it is running today. Last, but not least, you get the required time to react at the time of your choosing.
You can´t use MEMS in serious condition monitoring nor as a tool for predictive maintenance, but if something is better than nothing, you can clamp it on with an "easy to install magnet" without cables and worry about the battery life later.
I wonder though, if it is the installation that is the challenge to be solved in an industrial environment?
Vibration Analysis
Vibration analysis is the most efficient and commonly used condition monitoring method of rotating machinery. It's the best way to determine the mechanical condition of the device and the possible corrective actions needed to keep it running.
Another good quality of vibration analysis is its versatility. Most machines regularly produce at least some level of vibration, making this type of condition monitoring an excellent choice for companies with many different kinds of devices to monitor.
Vibration monitoring is also an extremely effective method in a predictive sense. Vibration analysis indicates failures in early stages when there is still something to do to prevent the failure from evolving into catastrophic failure. Vibration analysis is a powerful method in predictive condition monitoring; one should just make sure to select the correct tools.
Condition Monitoring with Condence
There are several ways of how condition monitoring can be executed and how modern technologies are utilised. Vibration is one parameter, with Condence, you can combine several different types of metrics, e.g. oil analysis to get a complete view of the health of your machinery. The benefits of condition monitoring and predictive maintenance are endless. We´ve solved a lot of the common challenges in remote condition monitoring, predictive maintenance and IIOT.
The most significant difference between vibration sensing technologies for predictive maintenance is time. When considering professional remote services you need to be able to analyse with enough time to act to the results with well-planned actions instead of the mad scramble of emergency repairs.
Accuracy in measurement gives you time to plan and execute on your terms.