Legacy assets present an enormous opportunity
Any company producing equipment for the industrial sector has a legacy, or installed base. In the industrial sector the life of an industrial asset can be anything from 10 to 40 years. During that period, depending on the asset, the Total Cost of Ownership (TCO)  excluding initial investment adds up to 70-90%. This includes energy, spare parts, maintenance etc. It does not take into account additional secondary costs, such as the cost to sales from downtime, failures caused to other assets and other ripple effects. This is why the installed base of industrial assets is regarded by many as the biggest opportunity for the Industrial IoT. The portential savings are enoromous, and so are the revenue opportunities.The Distence solution is designed to be a flexible, focused and robust approach to taking those legacy assets fast and efficiently into control, trusted by global players in the energy business. Our goal is to help our customers get closer to their customers, to increase transparency, optimization and control of installed assets. Edge-computing is here and ready to serve the business and optimize that TCO.

Panu Virtanen joins Distence as new Operations Manager
We are strengthening our management team and are happy to announce the appointment of Panu Virtanen to the team. Panu will be in charge of the order-to-delivery process as well as quality management and will be the point for our ISO 9001 program. Panu Virtanen has an extensive background, over 20 years of experience, from Project Management, Product Management, Operations Management and Engineering Services Management at engineering companies such as ENSTO Finland, Vilant Systems, Elcoteq and Planar Systems Inc. His Master's Thesis from the University of Technology addressed: Condition Monitoring of fiber-reinforced composite tanks using acoustic emission.You can contact Panu at Panu.Virtanen@distence.fi or at +358 40 569 6539.

Two industry snapshots – how do you benefit from digitisation
Construction Sites
W
ork sites often have a wide set of equipment. Co-operation of many different actors is typical to a construction site, in
addition to which the safe operation of the site and its requirements must be taken into account. Intelligent solutions at work sites is a method to manage a broad set of frameworks that need to take into account different functions, assets and requirements and to ensure that all operators work smoothly.
Read more

Industrial Operations and Maintenance
Utilising an intelligent system, edge-computing, in industrial maintenance allows for the creation of a comprehensive pictureof the operations of any device of interest. Remote monitoring and management makes daily operations easier and more efficient, also providing cost savings and new revenue stream possibilities. Distence edge-computing technology gets you there fast. Read more.

Condence platform + Smart Terminals = higher ROI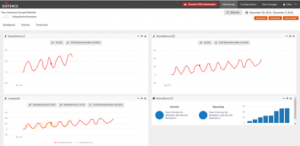 What does it take to get a good ROI from any given investment? The answer is to hit as many of the components that contribute to the formula. In short you need to impact both the revenue and the cost side.
With the award winning solution Distence has developed, our customers manage already globally thousands of assets on 5continents. The Condence Device Cloud platform together with our edge-computing technology, Smart Terminals, offer a complete solution, the technology platform, to increase asset level autonomy, transparency and to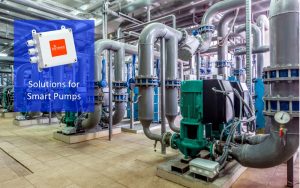 manage it from the cloud. In practice with the solution our customers can get a real time view into who is using, where and how an asset is being used. What condition it is in. By increasing the intelligence at the asset level, and managing this intelligence from the cloud thru our platform, our customers can add alogithms, AI, functions and features, data sources and interfaces to either legacy assets or new products. This enables condition monitoring, energy-, quality-, and performance management never seen before. And respectively a higher ROI.

We are growing – Open Positions at Distence
We have several positions open. If you are ambitious and have expert skills in any of the fields we are hiring for, please get in touch!